Support Groups Central brings you (the individual) and the support organizations together in one easy to access web site.

Through Support Groups Central, the organizations offer you:
•
online meetings & programs
No chat rooms or forums! All of our meetings are done using web-conferencing, so you can talk to real people from the comfort and privacy of your own home. Learn more »
•
useful tips & information


In addition to meetings, many organizations offer additional information and resources, such as blogs, document & video libraries, post-meeting discussions, etc.

•
helpful conversations


Discuss whatever is of interest to you with others who share the same interests. Get ideas, test out methods or use your group to assist you in a way that is the most useful to you.




You can have access to all of this by simply joining Support Groups Central.
Joining is free!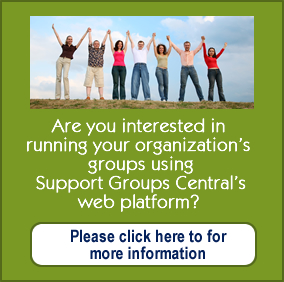 Recovery International is a mental health self-help organization whose program is based on self-control, self-confidence and determination to act. RI uses the cognitive-behavioral, peer-to-peer, self-help training system developed by Abraham Low, MD. Learn More »
Depression Recovery Groups is a service for those who have depression, bipolar disorder or anxiety. It is a way for people who are living with these conditions to easily come together, support each other and learn about what they can do to improve the quality of their lives.
Learn More»
Postpartum Support International (PSI) is a non-profit organization whose mission is to promote awareness, prevention and treatment of pregnancy and postpartum mental health worldwide. PSI provides direct support to pregnant and postpartum women and families, training to professionals and volunteers, and a bridge to connect with each other. Our universal motto is: You are not alone, you are not to blame, and with help you will get well. Learn More»
Project Return Peer Support Network is Los Angeles County's oldest program run by and for people with mental health challenges. With the motto of "taking charge together," PRPSN offers peer-to-peer support to help individuals reach their personal goals, such as living independently, going to school, getting a job, having friends and enjoying life in the community.
Learn More»
Arise! is a service for people who are involved in ministry and their loved ones. Ministry work is often challenging and all too often, ministers, as well as their children, experience struggles and problems. In an Arise! group they can find comfort, support, and help. Learn More»


Sanctuary Community Groups provide a safe space for LGBT people seeking faith, understanding, and spiritual growth. They are designed to foster community for LGBT people as well as friends and family members and are facilitated by experienced leaders who understand the challenges faced by LGBT people of faith. The groups are confidential and anonymous, and our programs do not promote any form of reparative therapy or orientation change. Sanctuary is a nonprofit ministry that helps churches and individuals from a variety of theological perspectives welcome the LGBT community through bridges of conversation, worship, and story.
Learn More».