Support Groups Central brings you (the individual) and the support organizations together in one easy to access web site.

Through Support Groups Central, the organizations offer you:
•
online meetings & programs
No chat rooms or forums! All of our meetings are done using web-conferencing, so you can talk to real people from the comfort and privacy of your own home. Learn more »
•
useful tips & information


In addition to meetings, many organizations offer additional information and resources, such as blogs, document & video libraries, post-meeting discussions, etc.

•
helpful conversations


Discuss whatever is of interest to you with others who share the same interests. Get ideas, test out methods or use your group to assist you in a way that is the most useful to you.




You can have access to all of this by simply joining Support Groups Central.
Joining is free!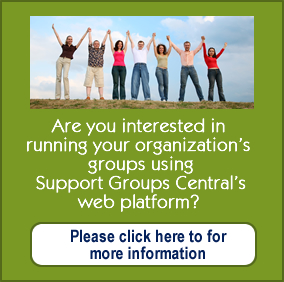 Recovery International is a mental health self-help organization whose program is based on self-control, self-confidence and determination to act. RI uses the cognitive-behavioral, peer-to-peer, self-help training system developed by Abraham Low, MD. Learn More »
Depression Recovery Groups is a service for those who have depression, bipolar disorder or anxiety. It is a way for people who are living with these conditions to easily come together, support each other and learn about what they can do to improve the quality of their lives.
Learn More»
This new group, offered by Depression Recovery Groups, is for mothers who have experienced or are experiencing postpartum depression, "the baby blues" or the anxiety that often is also present. A lot of women suffer with these issues - you don't have to be alone. Join with an experienced facilitator and other women who understand what you are going through. You will learn about how these issues commonly impact women and importantly the things you can do to find relief.
Learn More»
Arise! is a service for people who are involved in ministry and their loved ones. Ministry work is often challenging and all too often, ministers, as well as their children, experience struggles and problems. In an Arise! group they can find comfort, support, and help. Learn More»